A Journey Through Time and Nature: 3425 Hurricane Creek Rd, Woodbury, TN 37190
Posted by Michael Szakos on Wednesday, October 11, 2023 at 8:27:10 AM
By Michael Szakos / October 11, 2023
Comment
Welcome to a piece of history, a home that tells the story of generations and evolution. Nestled in the heart of Tennessee, this incredible estate, built in 1810 by Revolutionary War Veteran John Higgins, is a tapestry of past, present, and future. With recent renovations and expansions, it seamlessly blends historical charm with modern convenience, making it a truly unique and versatile property.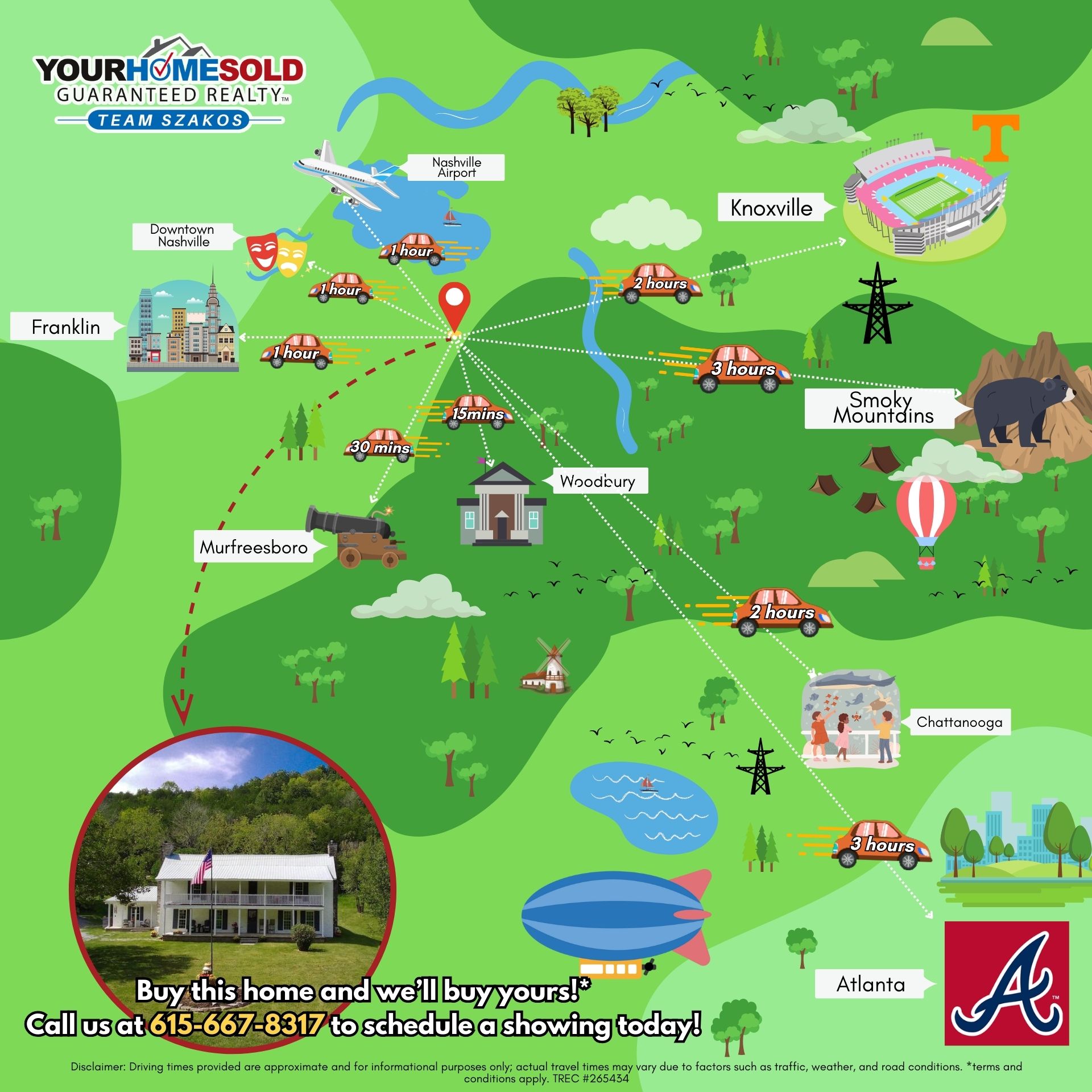 A Stroll through Time
Originally constructed in 1810 and expanded in 1830 to accommodate a growing family of 25 children, this estate witnessed the toil and love of generations. The recent renovations in the early 2000s have effectively reset the clock, giving the entire house a modern build year of 2006. The historical essence remains intact, featuring original door hardware, wood beams, a rock fireplace, and newspaper wallpaper from the early 1900s. Merging the past and the present, the house offers modern amenities like high-speed internet, updated plumbing, electrical systems, appliances, and a gourmet kitchen.
Versatility Beyond Measure
One of the standout features of this estate is its incredible versatility. The attached in-law quarters, complete with a kitchen, living room, bedroom, and full bathroom, offer endless possibilities. It can serve as a homeschooling space, a home office, an Airbnb rental, a recording studio, or a residence for extended family.
Embrace Nature's Bounty
Surrounded by nature's beauty, the estate offers a symphony of changing seasons and diverse wildlife. Deer, turkeys, hummingbirds, and many other creatures call this place home. Venture into the year-round creek, explore the mature forest, and marvel at the unique rock formations dotting the landscape. Mature fruit trees and pure spring water add to the charm, allowing you to embrace the country lifestyle fully.
Location, Location, Location
Situated just a short drive from various cities and attractions, this estate offers the best of both worlds. You can enjoy the peace and privacy of the countryside while being conveniently close to Woodbury, Murfreesboro, Franklin, Nashville, and more. Whether you seek solitude or social interaction, the choice is yours.

Watch the in-depth video of this home by clicking the button below
Endless Possibilities
This estate is not just a home; it's a canvas for your dreams. It's available for sale in three different configurations with varying land options—1.3 acres, 15 acres, or 30 acres. Let your creativity flow and consider options like creating a glamping site, wellness center, hosting events, or simply living a self-sufficient life.
The possibilities with this estate are as vast as the land itself. Step into this historical haven, embrace nature, and let your imagination take flight. Your future begins here, at the crossroads of history and modernity. Contact Your Home Sold Guaranteed Realty today to explore this remarkable opportunity.